About Wooragee Primary School
Enactment of School Philosophy
The work of Wooragee Primary School is enabled through students, staff and families working together to create a learning environment that promotes our vision, mission and values.
In all work in the school, the question "Is this work or process in line with the school vision, values and beliefs and is it in the best interest of our students?", will guide and shape all decisions.
---
Our Vision
To provide quality education in a holistic learning environment, empowering students to be purposeful members of a global community.
---
Our Mission
The purpose of Wooragee Primary School is to engage and encourage our students to:
Develop a love of learning and value being a learner.
Be literate, numerate and technologically skilled.
Be environmentally and globally aware.
Be culturally sensitive and understanding of others.
Select and evaluate information and be intellectually curious.
Be problem solvers who are able to think creatively and critically.
Work in teams with skills in cooperation, communication and negotiation.
Be flexible, adaptable and have persistence, so they are better able to adapt to change or when they experience discomfort.
Be community builders, with strong social competencies, resilience and self-esteem.
Know how to learn and want to continue to learn.
Move from being supported learners to autonomous, independent learners.
---
Our Values - 'The Wooragee Way'
Respect
For self, for others, for the environment and community.
Resilience
Trying hard, bouncing back, persisting.
Responsibility
For our learning, for our thoughts, for our actions.
---
Behaviour Expectations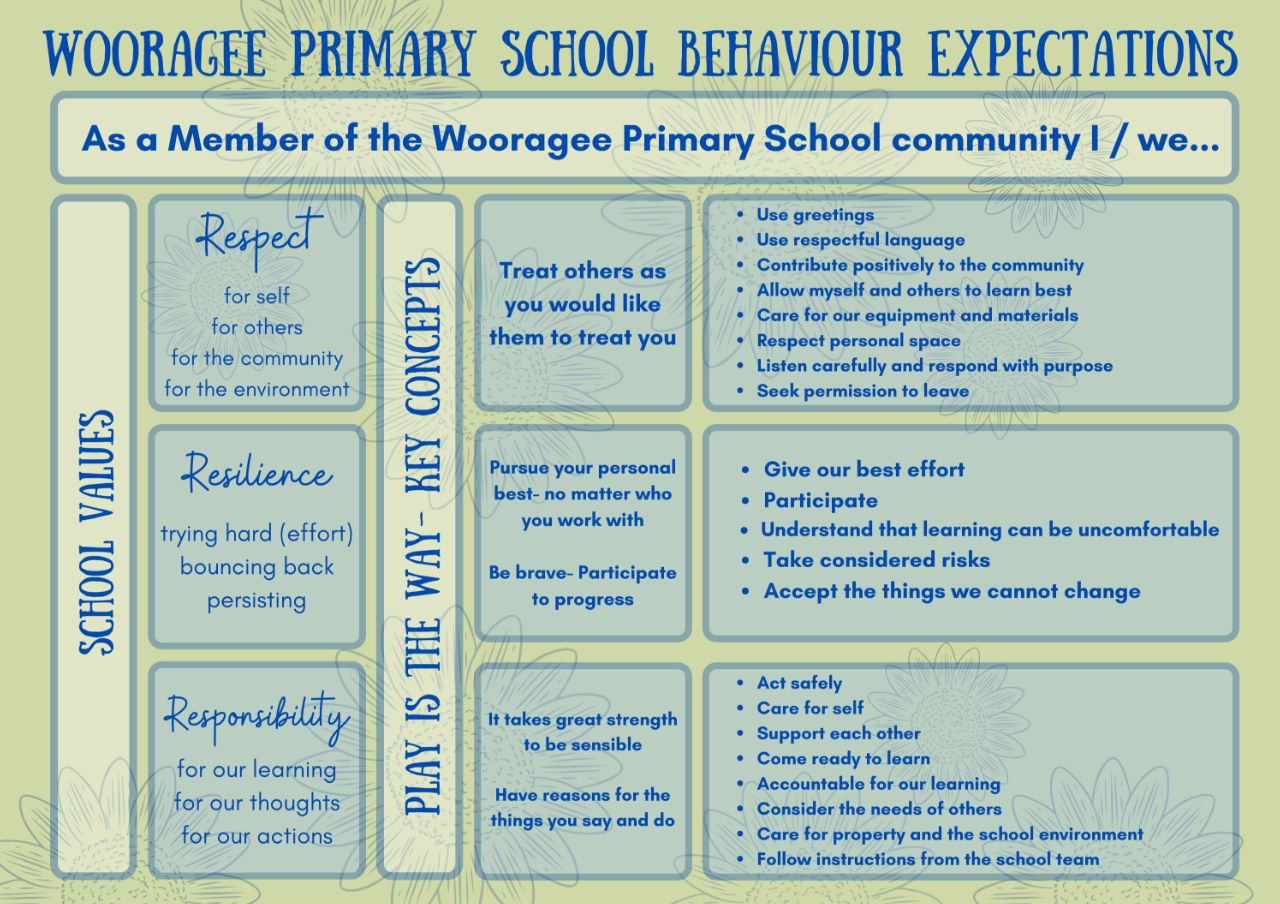 ---
Annual School Report
The 2021 Annual School report has been endorsed by the school council president on behalf of the council, Senior Education Improvement Leader and Quality Assurance check has been completed.
---
Location & Facilities
Location

Wooragee Primary School is a small rural primary school located 10km north of Beechworth and 15km west of Yackandandah.
The school is set in a beautiful, serene, rural setting, nestled between farming and native bush and creek blocks, that provide a perfect setting for children to play, learn and thrive. It serves a community within a radius of 30kms from which the students are bussed or driven.
Facilities
Our school was rebuilt in 2012 to include a brand new building housing an administration area, staffroom, library, project space and two classrooms. The purpose built Stephanie Alexander commercial kitchen is an amazing space that our students use weekly. We also make this space available to our wider community.

Our award winning school grounds consist of multiple areas. We have a student created Landcare Frog Bog to attract indigenous frogs for students to observe and study. Our sensory garden, located behind the Stephanie Alexander Kitchen, is home to a dry creek bed, mud kitchen, race car track and a range of loose parts and items to encourage curiosity through imaginative play.
Our bush creek reserve, Yirrikama, is our Nature Playground space- utilised for teaching and learning and free play. The space has full path access, a natural bird hide and a fire pit area, which we use as an outdoor classroom, yarning circle and base camp. Our students conduct Water Watch activities in our own creek and maintain creek health.

At Wooragee Primary School we have a well-equipped sport shed that students access daily during lunch and recess as well as during timetabled sport and PE. There is an extensive ramp system connecting buildings for all community members to access all school facilities and we have an accessible bathroom with hoist facilities.
---
Uniforms
School uniforms can be ordered through the school from Beleza School Uniforms (Wodonga)
We have a collection of second hand uniforms, which are available for families to use. This is to financially support families and to operate in line with our sustainable practices.